Ogólnopolskie Inspekcje Fotelików odwiedziły Kraków 19 lipca. Czy pełne słońce od samego rana było przyczyną, dla której zaczęliśmy pracę wcześniej niż zwykle? Chyba nie, bo od już o poranku na parkingu przy sklepie "Entliczek" w Krakowie było pełno gości, rodziców z dziećmi, którzy chcieli sprawdzić, czy wszystko jest w porządku z ich fotelikami – to właśnie dla nich zaczęliśmy wcześniej!
Na inspekcję do Krakowa nie mogliście się zapisać już na kilka tygodni przed rozpoczęciem. Wyczerpały się wolne miejsca, a inspektorzy szykowali się na bardzo dużą liczbę gości. Ponad 70 zapisanych osób, ten wynik sugerował że powtórzy się rekord z inspekcji w Łodzi, jednak nikt nie spodziewał się, że w Krakowie przeprowadzimy aż 90 (słownie: dziewięćdziesiąt) inspekcji. Dziewięćdziesiąt razy inspektorzy sprawdzili, czy dziecko było poprawnie zapięte w foteliku, czy jego rodzice dobrze ten fotelik dobrali i czy zadbali też o swoje bezpieczeństwo, a sprawdzali to poprzez kontrolę przebiegu pasów bezpieczeństwa i ustawienia zagłówków.
Pełnego sukcesu w Krakowie dopełniła obecność mediów, które spisały się na medal zarówno w zapowiedziach tego przystanku kampanii jak i w relacjach z jej przebiegu. Gościliśmy TVN24, Radio Eska i TVP Kraków. Dziękujemy za tak liczne przybycie!
Zobaczcie film z Krakowa: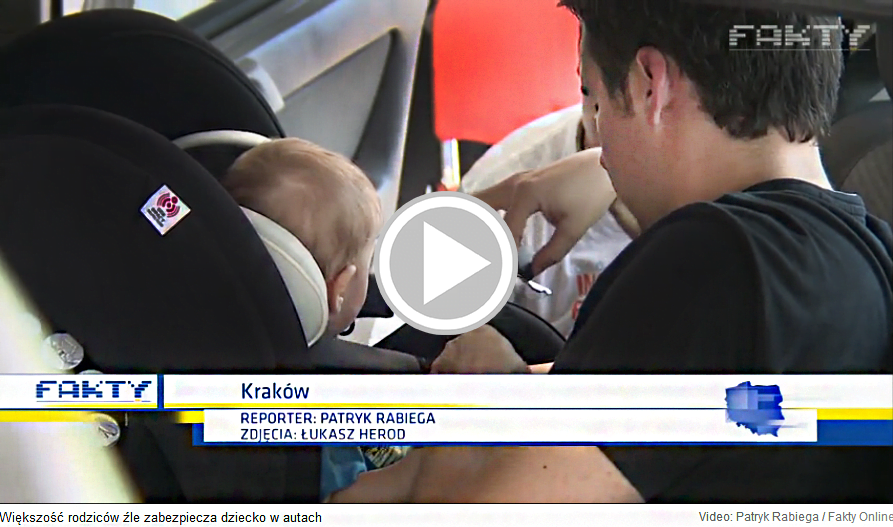 Dziękujemy także gościom, którzy odwiedzili miasteczko Ogólnopolskich Inspekcji Fotelików. To właśnie dla nich prowadzona jest ta kampania społeczna. Po wizycie w Krakowie mamy absolutną pewność, że zrobiliśmy wszystko co w naszej mocy aby te 90 rodzin mogło podróżować bezpiecznie i z troską o własne życie i zdrowie.
Ziarnko do ziarnka, w tym roku już teraz, w połowie naszej kampanii osiągnęliśmy wynik, będący niemalże całkowitą liczbą inspekcji w roku poprzednim! Kampania Ogólnopolskie Inspekcje Fotelików rośnie w siłę. Dziękujemy sponsorom i naszym gościom za wsparcie.
Spotykamy się 2 sierpnia w Rybniku przy sklepie "Markusia", a później widzimy się w Katowicach, 9 sierpnia przy ul. Bocheńskiego 99 – sklep "Dziecięcy Ekspert".
Sprawdź, czy Twoje dziecko podróżuje bezpiecznie. Przejdź na stronę główną: www.inspekcje-fotelikow.pl i zapisz się już teraz!