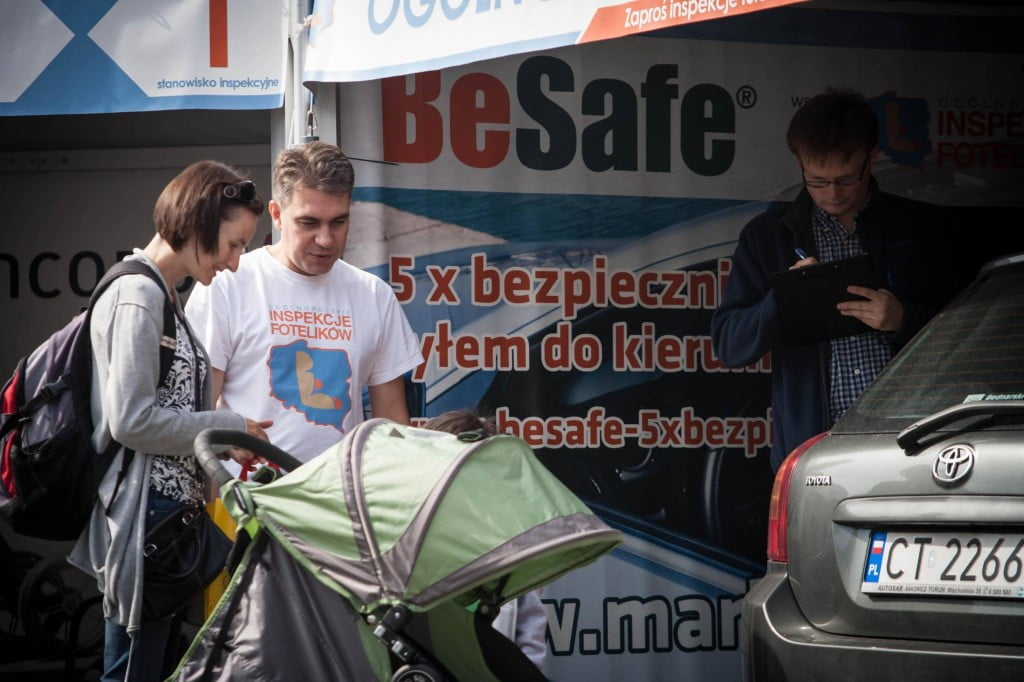 Ogólnopolskie Inspekcje Fotelików odwiedziły Toruń. 23 sierpnia inspektorzy sprawdzali foteliki samochodowe w mieście Kopernika przy centrum handlowym Toruń Plaza. Bezpieczeństwo dzieci jest najważniejsze, rodzice zjawili się licznie i inspektorzy pracowali bez wytchnienia.
Wśród polskich rodziców rodzi się nowa świadomość związana z bezpieczeństwem przewożenia dzieci, potwierdzają to statystyki dotyczące osób, odwiedzających Ogólnopolskie Inspekcje Fotelików. Nieustannie zwiększająca się liczba gości świadczy o tym, że istotne jest nie tylko to, czy w ogóle kupić fotelik, ale przede wszystkim jaki ma to być fotelik, jak go dobrać i dopasować.
Rodzice walczą o wiedzę, której często nie potrafią przekazać im sprzedawcy. Niestety w Toruniu po raz kolejny inspektorzy spotkali się z wieloma osobami, które rozczarowane wizytą w sklepach szukały wiedzy w innych źródłach. Ogólnopolskie Inspekcje Fotelików przy wsparciu partnerów i sponsorów (w tym roku sponsorem strategicznym jest BeSafe) są odpowiedzią na ten stan rzeczy, ale tendencja jest niepokojąca.
Inspektorzy korygowali błędy montażu fotelików w samochodach jednocześnie ucząc rodziców, jak poprawnie montować i dopasowywać foteliki. Każdy rodzic po wizycie w namiocie inspekcyjnym jest w stanie samodzielnie i bez pomocy fachowca zamontować fotelik w sposób, który zapewnia jego dziecku maksymalną możliwą ochronę w danej konfiguracji sprzętu (fotelik + samochód).
W Toruniu niestety spotkaliśmy się z dużą ilością rodziców przewożących dzieci w sposób kompletnie odstający od jakichkolwiek norm bezpieczeństwa – czyli bez fotelików samochodowych.  Być może jest to przypadek i wyczulone oko naszej ekipy, ale sprawia to, że motywacja do wytężonej pracy na rzecz poprawy bezpieczeństwa w podróży zwiększa się.
Drodzy rodzice – fotelik samochodowy to jedyny sposób na zapewnienie dziecku ochrony podczas zdarzeń drogowych.
Inspekcje w Toruniu przebiegały w ekspresowym tempie, a ich ilość porównywalna była z pierwszym tegorocznym rekordem ustanowionym w Łodzi (który później został pobity w Krakowie). Miejmy nadzieję, że kampania społeczna Ogólnopolskie Inspekcje Fotelików zaowocowała w Toruniu nie tylko poprawą bezpieczeństwa dzieci w przypadku tych, którzy odwiedzili inspekcje, choć to oczywiście jest ważne, ale przede wszystkim obecność inspektorów przy tak charakterystycznym i pełnym ludzi obiekcie jakim jest Toruń Plaza obudziła świadomość i pytania o to, dlaczego warto poświęcić tematowi fotelików samochodowych więcej niż chwilę.
Kolejne przystanki na trasie inspekcji to: 30 sierpnia – Kraśnik oraz 20 września – Warszawa. W najbliższych dniach rusza także konkurs na miasto, które zostanie wybrane przez rodziców do goszczenia Ogólnopolskich Inspekcji Fotelików.
Zajrzyj na: www.facebook.com/InspekcjeFotelikow