Wrocław to 10 przystanek na Trasie "Ogólnopolskich Inspekcji Fotelików Samochodowych 2013". Inspekcje odbyły się przed Przedszkolem "Zdrój", w sobotę 7 września. Podczas Inspekcji Anna Markowska z serwisu http://inspekcje-fotelikow.pl kilka wywiadów z rodzicami pytając ich m.in. o wrażenia z Inspekcji. 
Gościem Anny Markowskiej jest Marcin Pilc:
Anna Markowska: Czy Pana fotelik był poprawnie zamontowany?
Marcin Pilc: W sensie, że na początku, przeze mnie, tak?
Anna Markowska: Tak.
Marcin Pilc: Prawie. Było parę rzeczy. Źle ściągnięte pasy, tutaj się dowiedziałem, że muszą być odpowiednio mocno naciągnięte.
Anna Markowska: A jak wrażenia po dzisiejszych inspekcjach?
Marcin Pilc: Pozytywne i dowiedziałem się paru ciekawych rzeczy, które gdzieś wcześniej bagatelizowałem, a od tej pory będę starał się stosować do wskazówek.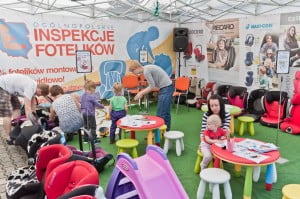 Anna Markowska: A może Pan powiedzieć jakie to były rzeczy?
Marcin Pilc: Przede wszystkim dobre naciągnięcie pasów. Podstawa fotelika nie może się przemieszczać, powinna sztywno przylegać do siedzenia. Jeśli chodzi o kierowcę, główną osobę w samochodzie, od której zależy bezpieczeństwo – również jego pasy powinny być dobrze ściągnięte na wysokości miednicy.
Anna Markowska: Dziękuję.
Marcin Pilc: Dziękuję.