Wrocław to 10 przystanek na Trasie "Ogólnopolskich Inspekcji Fotelików Samochodowych 2013". Inspekcje odbyły się przed Przedszkolem "Zdrój", w sobotę 7 września. Podczas Inspekcji Anna Markowska z serwisu http://inspekcje-fotelikow.pl kilka wywiadów z rodzicami pytając ich m.in. o wrażenia z Inspekcji. 
Wywiad z Gościem Inspekcji, Markiem Jankowskim:
Anna Markowska: Czego się Pan dowiedział podczas inspekcji?
Marek Jankowski: Dowiedziałem się na co zwrócić uwagę podczas wyboru fotelika dla dziecka. Mimo, że wiedziałem już trochę o fotelikach, to dowiedziałem się na co zwrócić uwagę w przypadku mojego dziecka. Bo czasami jest tak, że człowiek ma jakąś ogólną wiedzę, a kiedy przychodzi do konkretnej sytuacji, to okazuje się, że tam są jakieś takie szczegóły, o których nie wie. Jestem bardzo zadowolony, bardzo mi się podobało. Super pomysł w ogóle i myślę, że każdy rodzic, który tutaj przyjeżdża naprawdę jest zadowolony, bo po to się kupuje fotelik, żeby dziecko było bezpieczniejsze, a kiedy się przyjedzie na inspekcje fotelików i dowie się o pewnych rzeczach, wtedy na prawdę osiąga się efekt. Wtedy pieniądze wydane na fotelik są naprawdę wydane sensownie.
Anna Markowska: A czy fotelik był zamontowany poprawnie?
Marek Jankowski: Zamontowany był poprawnie natomiast były pewne rzeczy, które były nienajlepsze jeżeli chodzi o dopasowanie dziecka do tego fotelika. Montaż fotelika w samochodzie ok, ale dobór fotelika do dziecka nie do końca.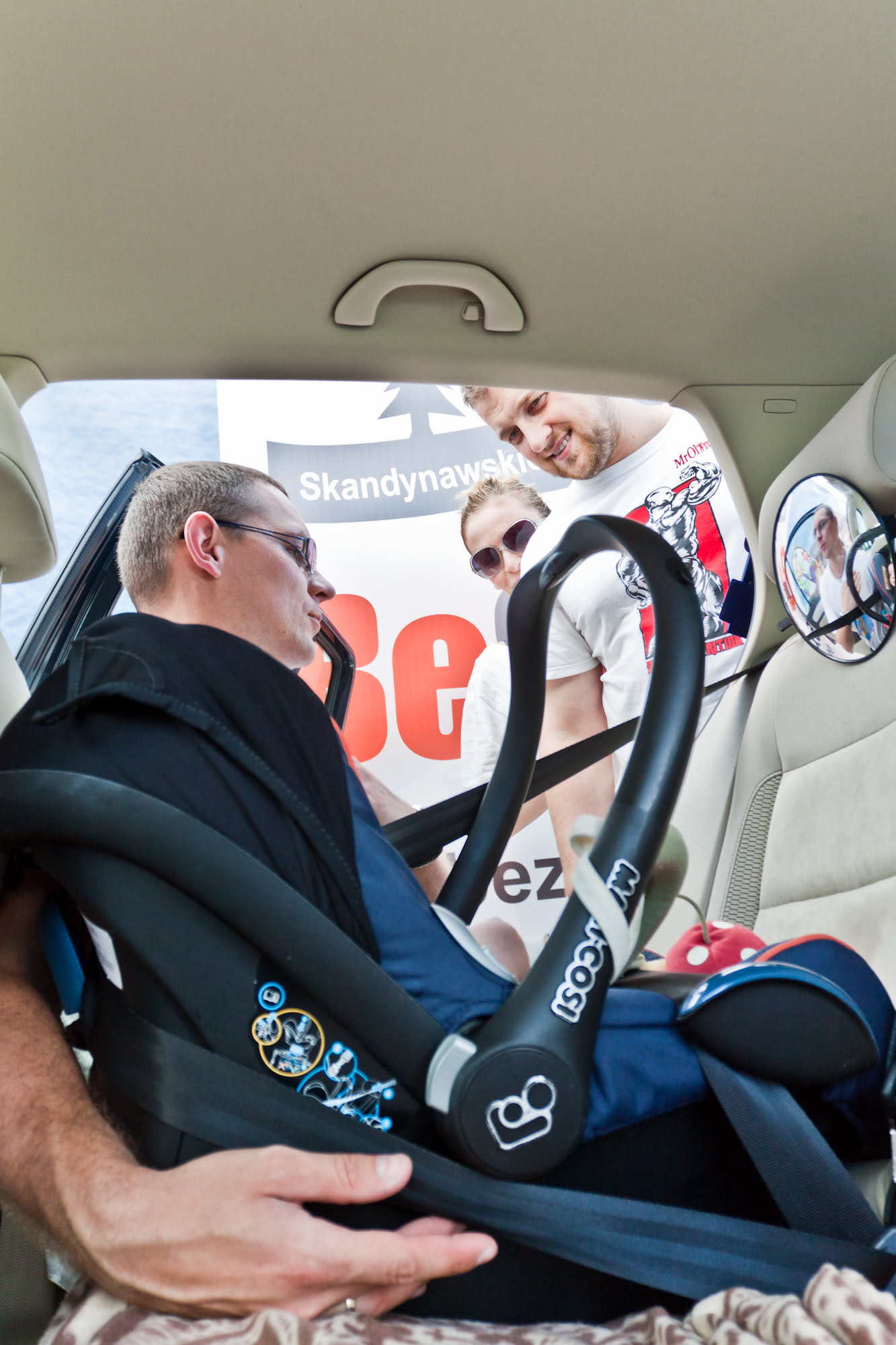 Anna Markowska: A co na przykład?
Marek Jankowski: Za duży. Moje dziecko jest za szczupłe żeby mieć tyle miejsca w tym foteliku. Dowiedziałem się co muszę robić, aby miednica się nie przemieszczała w trakcie jazdy, że on w tym akurat konkretnym fragmencie powinien być ciaśniejszy. Pas powinien przechodzić poniżej miednicy, powinien zabezpieczać dziecko przed wysunięciem się, czyli przed nurkowaniem.
Anna Markowska: Za rok też Pan przyjedzie?
Marek Jankowski: Myślę, że tak! Córka urośnie, dopasuje się, że tak powiem i zobaczymy co się wydarzy. Może w przyszłym roku będzie lepiej.
Anna Markowska: Dziękuję!
Marek Jankowski: Dziękuję.